800 Watt Power Supply Guide
March 30th, 2006 |
Power Supplies
800 watt power supply units are a rare breed. There are not many that get to that level of performance, but the analogy of never having too much applies here. It would be hard to say that you would really need an 800 watt power supply for everyday stuff. With that said, those who had the most powerful power supply a few years ago, quickly found that their power supplies were no longer enough to supply the needs of their computers anymore.
PC Power and Cooling 800 watt power supply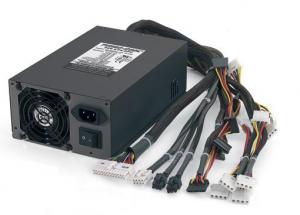 The astonishing thing is that even thought it is an 800 watt power supply, seemingly needing a lot of power it is actually extremely efficient.
There are probably very few people who would need this amount of power in their desktop computer, it is almost hard to imagine putting enough things in a desktop computer to warrant an 800 watt power supply. However, that is not the best feature of the power supply.
It isn't just the power of the 800 watt power supply that makes it a great deal. It is the sheer workmanship and quality of a power supply that costs more than some computers that comes into play with this 800 watt power supply.
The 800 watt power supply itself runs very hot and you can almost burn your fingers on the cable that runs to the power supply. It has a network filter to remove spikes from the power supply network, which helps to insure that things run smooth and protects your computers parts.
So, if you have $500 or so for an 800 watt power supply then this might just be the best bet. With high efficiency and superb output levels you simply can't go wrong with this beauty.