Cheap Computer Cases
August 17th, 2006 |
Computer Cases
Cheap computer cases can be pretty good even compared to their high-end counterparts. Cheap computer cases offer most of what the more expensive models offer. With cheap computer cases you need to look at reputation and build, as their are lots of similarities between cheap computer cases and more expensive computer cases. When you first look at it, it doesn't seem like there is much to consider when looking at computer cases. They all seem similar except for colors and little extras.
But there is more to it than meets the eye, and if you don't take all the possible options into consideration, you might just end up buying the cheapest cases you can find, or dishing out on the most expensive, when it might be unnecessary.
With our guide and a little planning, your new case will be able to enhance your computing experience, rather than creating headaches and problems.
General quality and design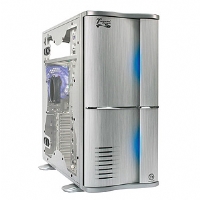 This ThermalTake Tsunami Aluminum Case has a clear side, 2 big 120mm fans, no power supply and tool free clips for cards inside.
The mid-tower ATX case is by far the most useful and popular of case sizes. It is not the smallest, but the trade-off between size and ease of use make it worth it.
Good materials make a good case, which can, in many instances, last for many years. Thin materials, or a lack of them means that the case maker has sacrificed quality to keep the price low.
Good joins and welds inside a case can reveal a case that has been well planned and put together.
Smooth edges within the computer case not only keep you from getting cut, but also show that care has been taken in designing the case, a good sign of a well made case.
Expansion bays and ports
You need to make sure that there are anough expansion bays at the front of the computer. If you have more than just a DVD then you will need to make sure you have one or more for upgrades. There should also be place for at least one floppy drive. Inside the computer there are spaces to put the hard drives, make sure there are at least 4 of these, not because you want 4 hard drives, but even with only 2 you would want to leave some space between them for heat dissipation.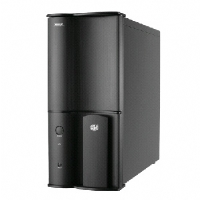 This CoolerMaster Wave Master has ports for audio, USB and firewire on the top and cleverly hides the front fans from view
Ports at the front of the case make life that much easier if you connect and disconnect items like cameras, video cameras or removable hard drives often. The most common are ports for USB, firewire and some audio. These are the very least you should look for, sometimes they are not all necessary, but if you do use them a lot having them at the front can save you the bother of having to reach around the back of your computer everytime you want to connect a removable device. Another worthwhile addition is a card reader bay, which can be useful too.
Drive rails allow CD and DVD drives to be taken out easily, they are a useful thing, but if your CD drive stays in the computer 100% of the time like mine, they are not needed.
Aluminum cases
Although a cheap computer case will keep costs down at the beginning, a good case can last many years, even after every single part inside has been changed. The sacrifice is a little more upfront expense.
Aluminium allows a very well made case to still be relatively light. These are usually more expensive, but there are cheap options which are too flimsy and inferior.
Click here for some unbiased reviews of popular power supplies.
Power supplies and space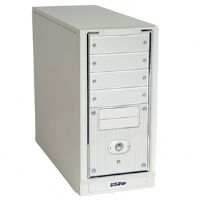 PMI EZ-Media - Corporate - Mid-Tower Case with Pentium 4 Ready 350Watt Power Supply
The power supply's job is to provide clean solid power to the components of the computer. Making sure the one you get is of decent quality can take away a lot of headaches.
Computer cases often come with power supplies, but their quality can vary A LOT. Make sure you know all of the details of the power supply before buying. Be as picky about it as you would if you were buying one seperately. Going for a reputable company like Antec, Enermax and others will allow you to get a decent power supply and not have it burn out within a few days. If a case only cost 50 dollars and claims a power supply of 500 watts, be very careful.
A case which has enough space to fit in a long graphics card is essential to make sure that it doesn't get in the way of the hard drives at the other end.
Cooling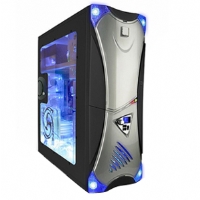 Aspire X-Navigator Aluminum ATX Mid-Tower Case with Clear Side, Front USB and Firewire Ports, Built-in Fan Controller and 500-Watt Power Supply
Rounded cables help immensely with airflow in the case. The IDE cables that traditionally, and still do, connect the hard drives and CD drives are big and flat, making a large barrier to flowing air. Rounded IDE cables look cooler and allow better airflow, reducing the need for more fans.
Despite these things you will still need fans in your case. The heat of modern parts requires this. There need to be at least 3 if not more spots for you to add fans into the system. Most common is 2 at the back, and 1 or 2 at the front, some also have one on the side panel, over the CPU.
All these fans make a lot of noise. With four fans running as well as the fans in the power supply it can be quite annoying in a quiet office. One thing that helps to keep the noise down is for the makers to use 120mm fans which move more air, so they need fewer fans, therefore making less noise.
Mod computer cases
Some people have taken computer cases to the extreme. While most cases were grey and dull before, they can now sport things such as UV reactive cables and other bits, combined with LED fans, and cold cathode tubes in much the way that people have been doing to cars for many years.
I don't need all of that, and you probably don't too. If you are looking for something unique, a good quality case is probably all you need. With the variety of designs, both traditional and more modern, the options are nearly limitless.
Overview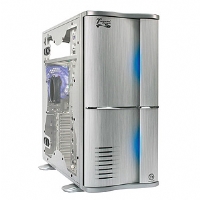 ThermalTake Tsunami Aluminum Case with clear side.
CoolerMaster Wave Master aluminum case.
That's everything you need to know to get the case that is perfect for your needs. An investment in a good case is not thought about very often, but the advantages are there. A good case can become like an old friend, you can keep each other company for a good many years, and this one won't let you down.
Here's a quick rundown of those things you need to look out for.
How many 3.5″ drive bays do I need? (hard drive / floppy drive)
How many 5.25″ drive bays do I need? (CDROM / DVD)
What size power supply do I need? (300watt or more. Gamers, 500watt)
How much cooling to I need? (Number Of Fans?)
Should I buy the case and the power supply separately?
What kind of case construction am I looking for?
Do I want front mounted ports? (USB / Firewire / Audio)
Is the aim a quiet computer, or one that will provide lots of cooling?
Does this case need extra fans?
Do I want rails? Are they necessary?
Do I have long AGP or PCI cards that might interfere with hard drives?
Is aluminum worth the money for me?
How much do I want to spend?