Cheap Computer Cases
When you first look at it, it doesn't seem like there is much to consider when looking at computer cases. They all seem similar except for colors and little extras.
But there is more to it than meets the eye, and if you don't take all the possible options into consideration, you might just end up buying the cheapest cases you can find, or dishing out on the most expensive, when it might be unnecessary.
With our guide and a little planning, your new case will be able to enhance your computing experience, rather than creating headaches and problems.
General quality and design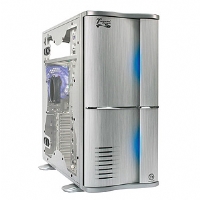 This ThermalTake Tsunami Aluminum Case has a clear side, 2 big 120mm fans, no power supply and tool free clips for cards inside.
The mid-tower ATX case is by far the most useful and popular of case sizes. It is not the smallest, but the trade-off between size and ease of use make it worth it.
Good materials make a good case, which can, in many instances, last for many years. Thin materials, or a lack of them means that the case maker has sacrificed quality to keep the price low.
Good joins and welds inside a case can reveal a case that has been well planned and put together.
Smooth edges within the computer case not only keep you from getting cut, but also show that care has been taken in designing the case, a good sign of a well made case.