Cheap Computer Cases
Expansion bays and ports
You need to make sure that there are anough expansion bays at the front of the computer. If you have more than just a DVD then you will need to make sure you have one or more for upgrades. There should also be place for at least one floppy drive. Inside the computer there are spaces to put the hard drives, make sure there are at least 4 of these, not because you want 4 hard drives, but even with only 2 you would want to leave some space between them for heat dissipation.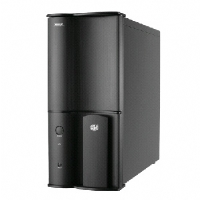 This CoolerMaster Wave Master has ports for audio, USB and firewire on the top and cleverly hides the front fans from view
Ports at the front of the case make life that much easier if you connect and disconnect items like cameras, video cameras or removable hard drives often. The most common are ports for USB, firewire and some audio. These are the very least you should look for, sometimes they are not all necessary, but if you do use them a lot having them at the front can save you the bother of having to reach around the back of your computer everytime you want to connect a removable device. Another worthwhile addition is a card reader bay, which can be useful too.
Drive rails allow CD and DVD drives to be taken out easily, they are a useful thing, but if your CD drive stays in the computer 100% of the time like mine, they are not needed.
Aluminum cases
Although a cheap computer case will keep costs down at the beginning, a good case can last many years, even after every single part inside has been changed. The sacrifice is a little more upfront expense.
Aluminium allows a very well made case to still be relatively light. These are usually more expensive, but there are cheap options which are too flimsy and inferior.
Click here for some unbiased reviews of popular power supplies.