Cheap Computer Cases
Overview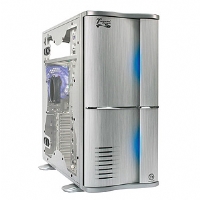 ThermalTake Tsunami Aluminum Case with clear side.
CoolerMaster Wave Master aluminum case.
That's everything you need to know to get the case that is perfect for your needs. An investment in a good case is not thought about very often, but the advantages are there. A good case can become like an old friend, you can keep each other company for a good many years, and this one won't let you down.
Here's a quick rundown of those things you need to look out for.
How many 3.5″ drive bays do I need? (hard drive / floppy drive)
How many 5.25″ drive bays do I need? (CDROM / DVD)
What size power supply do I need? (300watt or more. Gamers, 500watt)
How much cooling to I need? (Number Of Fans?)
Should I buy the case and the power supply separately?
What kind of case construction am I looking for?
Do I want front mounted ports? (USB / Firewire / Audio)
Is the aim a quiet computer, or one that will provide lots of cooling?
Does this case need extra fans?
Do I want rails? Are they necessary?
Do I have long AGP or PCI cards that might interfere with hard drives?
Is aluminum worth the money for me?
How much do I want to spend?