Cheap Computer Cases
Power supplies and space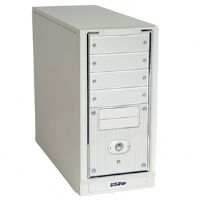 PMI EZ-Media - Corporate - Mid-Tower Case with Pentium 4 Ready 350Watt Power Supply
The power supply's job is to provide clean solid power to the components of the computer. Making sure the one you get is of decent quality can take away a lot of headaches.
Computer cases often come with power supplies, but their quality can vary A LOT. Make sure you know all of the details of the power supply before buying. Be as picky about it as you would if you were buying one seperately. Going for a reputable company like Antec, Enermax and others will allow you to get a decent power supply and not have it burn out within a few days. If a case only cost 50 dollars and claims a power supply of 500 watts, be very careful.
A case which has enough space to fit in a long graphics card is essential to make sure that it doesn't get in the way of the hard drives at the other end.
Cooling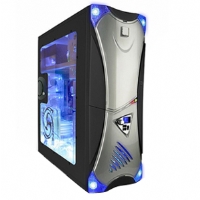 Aspire X-Navigator Aluminum ATX Mid-Tower Case with Clear Side, Front USB and Firewire Ports, Built-in Fan Controller and 500-Watt Power Supply
Rounded cables help immensely with airflow in the case. The IDE cables that traditionally, and still do, connect the hard drives and CD drives are big and flat, making a large barrier to flowing air. Rounded IDE cables look cooler and allow better airflow, reducing the need for more fans.
Despite these things you will still need fans in your case. The heat of modern parts requires this. There need to be at least 3 if not more spots for you to add fans into the system. Most common is 2 at the back, and 1 or 2 at the front, some also have one on the side panel, over the CPU.
All these fans make a lot of noise. With four fans running as well as the fans in the power supply it can be quite annoying in a quiet office. One thing that helps to keep the noise down is for the makers to use 120mm fans which move more air, so they need fewer fans, therefore making less noise.
Mod computer cases
Some people have taken computer cases to the extreme. While most cases were grey and dull before, they can now sport things such as UV reactive cables and other bits, combined with LED fans, and cold cathode tubes in much the way that people have been doing to cars for many years.
I don't need all of that, and you probably don't too. If you are looking for something unique, a good quality case is probably all you need. With the variety of designs, both traditional and more modern, the options are nearly limitless.