Motherboards
The Socket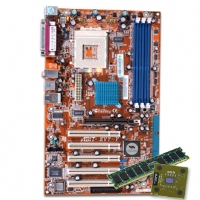 Abit KV7-V Socket A motherboard, 8x AGP graphics slot, 4 PCI slots, 3 DDR memory slots for 400MHz (PC3200) DDR memory, USB support and SATA
The first thing to look at is which kind of socket the processor you are going to use has. The socket is the kind of connection that the computer CPU processor uses to connect itself to the motherboard. There are a whole variety of them and they are NOT interchangable.
The first thing to do is either to look at the CPU processor chip you have and see what socket it uses, or choose a new chip and then choose a motherboard by the kind of socket that processor uses.
The changing sockets are not just a way to make upgrading that much more difficult but actually help with the implementation of some of the new features that the processor manufacturers use.
Currently there are 5 major socket connections amongst consumer CPU processors. Intel has 2 different kinds, while AMD has 3, we'll have a look at them all.
Socket A - For AMD Sempron, AMD Athlon XP, AMD K6 and Duron
Socket A was the original socket connection for AMD chips. As time has gone by they have seen the need to add some different socket connections to the line. Chips that fit in this socket connection are by far the cheapest in the AMD lineup as they are being phased out in favor of Socket 754 and Socket 939.
Socket 754 - For AMD Sempron and AMD Athlon 64 (800MHz bus)
Socket 754 is a newer connection than the older Socket A. The AMD Sempron is available in both Socket A and Socket 754. The one's with Socket 754 support higher bus speeds than the Socket A chips. The Athlon 64 comes in Socket 754, but the newer chips with a faster bus come in Socket 939.
Socket 939 - For AMD Athlon 64 (1000MHz bus) and AMD Athlon 64 FX
Socket 939 helps the AMD chips to reach the 1000MHz mark bus speed with their chip. But there are other advantages. It allows the use of "Dual DDR memory" which effectively pairs two sticks of memory together, allowing up to 10% improvement on their speed.
Socket 478 - For Intel Pentium 4 and Celeron
Socket 478 is the main socket type for the Intel chips that are now being phased out. Both Celeron and Pentium came with this socket.
Socket 775 - For newer Intel Pentium 4 and Celeron
Socket 775 is now the main socket type for Intel consumer chips. The Pentium 4 chips all support 800MHz bus, but watch out for some that are only 533MHz. All Celerons are 533MHz bus.
There are a lot of things that can be included with a motherboard, there are some basic functions that they all have, and some more specific things that are often included. Have a look at these next.