Motherboards
Bus speed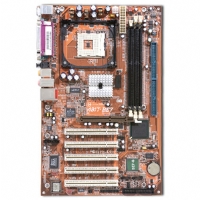 Abit BE7-G Intel Socket 478 with 800MHz bus, AGP 8x, LAN, USB 2.0 and Serial ATA (SATA)
If you are looking for higher bus speeds, make sure your motherboard can support them. Usually if you buy a processor and motherboard that match that will be enough, but do check. Make sure the board specifies a bus speed that is at least equal to the stated bus speed of the CPU. If you don't buy them to match like this they will run at the speed of the slowest part.
Onboard (built-in) graphics card - optional
This is the graphics that is built into the motherboard. You do not have to add anything extra, sometimes just install drivers that come with the motherboard. These get better by the day, and getting a motherboard with decent onboard monitor support, with like at least 8MB or more of memory allocated to it is a good idea. Make sure it will support your monitor resolution and refresh rate. Some of the onboard graphics use up to 64MB of your RAM, which is cheaper for you, but it uses RAM, which can slow down your programs a little. A good graphics card can reduce processor usage and save you that memory. So if you plan to do 3D graphics or play games (newer ones) than go with a seperate graphics card. The built in ones are for average use only.
Graphics card slot - AGP 4x, AGP 8x or PCI Express - must have one
I do not use mine on my computer in favor of using the built in graphics card, but if you ever plan to buy a graphics card, this would be needed. All boards have them. AGP is the most common slot, and is good for most graphics cards. The newer kind is PCI express which offers higher speeds, this will slowly phase in as the AGP phase out, but not too soon. It still does not offer a huge leap over AGP 8x, so either will do, but PCI express is probably more futureproof.