Motherboards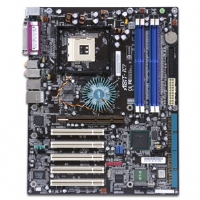 Abit IC7-G Socket 478, 800MHz bus, AGP 8x / AGP 4x, Dual Channel DDR ram, Audio, LAN, USB 2.0, Firewire, SATA and RAID
PCI slots - must have
These are the spots that any cards you buy will plug into inside the computer. This will determine how many extra cards you can put in the computer. All non-graphics cards are this type.
USB ports - must have
USB is what connects most external things like printers and digital cameras to the computer. Look out for USB 2.0 if your printer or camera can support this higher speed. Found on almost every motherboard.
Lan RJ45 (Network) ports - must have
This allows you to connect yourself to a network, as well as connecting to broadband like ADSL or Cable. Another very common thing on motherboards, yours should have them.
IEEE 1394b (firewire) ports - optional
The most common use for these is transferring video onto the computer for digital processing. Not all motherboards have, but nice if you need it, easily upgraded by adding a card for it later.
Audio - optional
Onboard audio is often not as good as a seperate card, but they are now good enough, that getting one on the motherboard, will save you that money for something more critical. The built in ones are now good enough for everyone except audiophiles. Most motherboards will have one built in, it's very common, but the quality will vary.
Mouse and keyboard slots (PS/2 ports) - must have
Well without a mouse and a keyboard…. enough said. New mice and keyboards sometimes use USB though. Expect these for sure.